Danish light pine style floorboards Boston Lincolnshire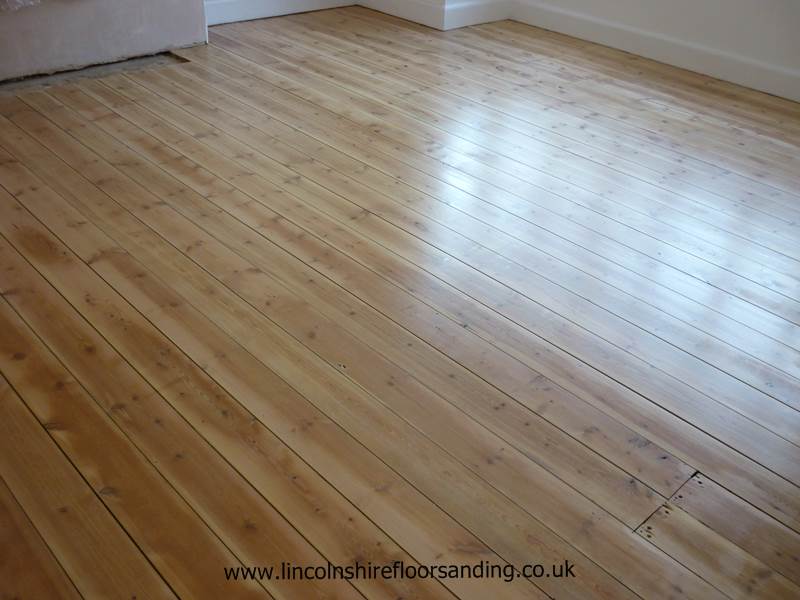 Our client required something a little different after visiting Denmark, and inspired by the white wash floors of the Douglas fir is a popular flooring choice in Denmark, famous for its light wood appearance.
We were called to a 1960's house with T and G pine boards, we chatted with our client about the options of keeping there floorboards as light as possible, and the dust free floor sanding service we provide.
I sanded a small test area and applied some clear hardwax oil, the pine boards coloured to a deep pine finish, our client asked if it was possible to make the floor look lighter but natural, as they had been away in Denmark and had seen lots of lovely pine floors and this is what made her think about having the rooms in there house sanded and finished.
I explained that pine floorboards in the UK was a lot different to the Douglas fir floorboards and that due to its soft grain nature a lye and soap finish was a perfect finish for Douglas fir.
With the 1960's pine floorboards and alternative was required, we sanded another test area.
We worked in our white coloured hardwax oil stain and then over coated with our special light coloured hardwax oil, this gave a light pine finish with very little true white showing, this was just what our client wanted, not to white but not to much pine in colour.
As you can see from the first photos, the floor boards are dark in appearance, we set about with our dust free floor sanding equipment, sanding until the floorboards became lighter we then floor polished them so they were silky smooth and ready for finishing.
At this stage if we had just applied a clear natural hardwax oil then the floorboards would regain the pine colour and turn more of an orange colour, so we hand polished in a light hardwax oil into the floorboards to lighten the wood but not turn it white and lose the grain definition, we then finished the floorboards with a hardwax oil.
The end result was a light wood effect with the durability of a hardwax oil.
Sadly the white in the floorboards dose not show up very well in the photos.
We make the cleaning and maintenance of our hardwax floors easy, as we supply a FREE cleaning and maintenance kit with every completed floor sanding job. (one kit per address)
Please read more about our restoration works click here