Louth oak parquet floor sanding and restoration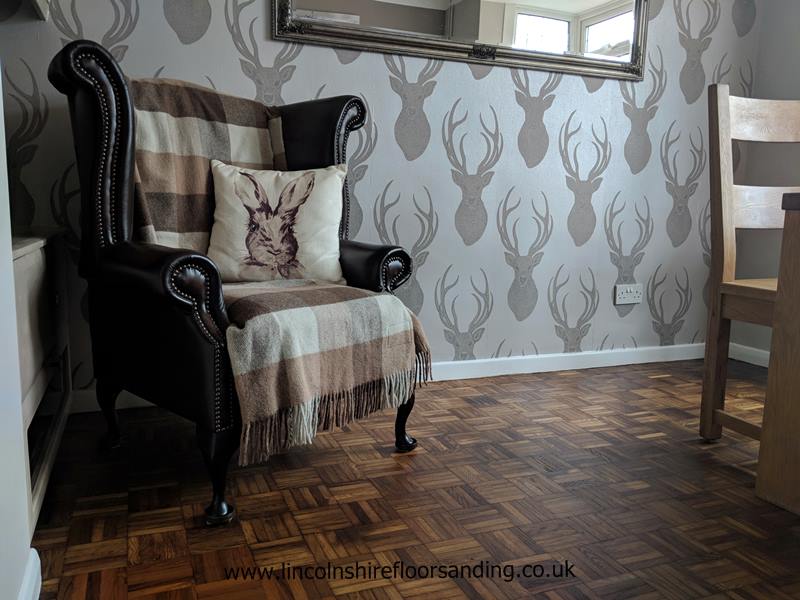 We were called to view this floor in Louth, our clients had lifted the carpet in there new house to find a oak block parquet across the downstairs area.
Over the years the fire hearth had been changed and a bay extension had been added to the rear of the property, leaving an area of the floor just concrete, there was evidence that some of the parquet blocks had come lose over the years and had been badly stuck back down.
The question was, could we help ? The answer, Yes we can.
A job like this is not for the faint hearted, we removed the concrete areas, put a DPM and new sub base down, ready to fit reclaimed parquet blocks on top, the repaired areas were more of a challenge, as parts of the parquet had been fitted incorrectly leaving us with a run and uneven spacing, the repaired areas were lifted and we started again, blending the pattern so by the time we had finished, you could not see the irregular spacing.
All the parquet floor was sanded several times, working from our coarse grade abrasive up to our smooth finishing grade abrasive, this leveled out the floor making it feel much smoother to walk on, once we had finished sanding the edges we were ready for finishing the floor.
We had recommended a hardwax oil, as this would bring the grain of the wood out, this is a very durable finish and easy to clean.
We make the cleaning and maintenance of our hardwax floors easy, as we supply a FREE cleaning and maintenance kit with every completed floor sanding job. (one kit per address)
Please Read more about our restoration works click here