Louth dust free floor sanding Georgian pine floorboards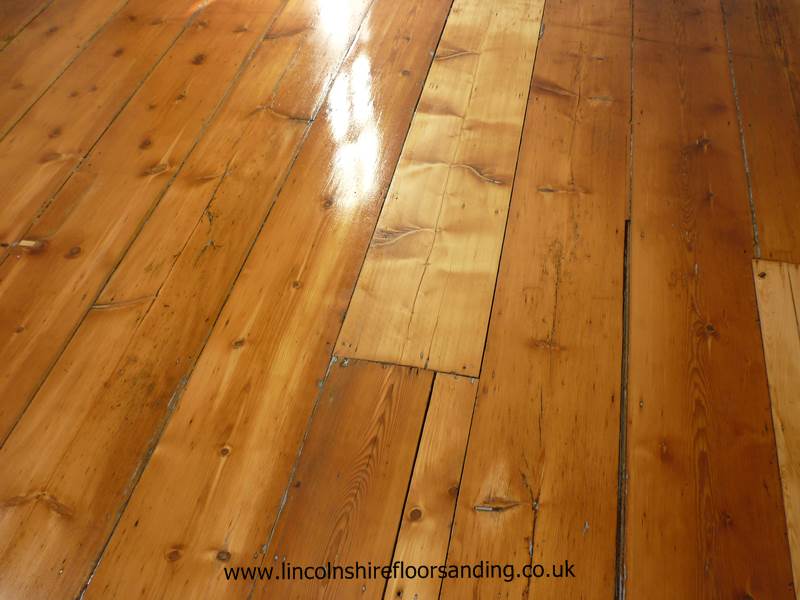 We were called to a Georgian house in Louth Lincolnshire, the floorboards were in a very distressed state and were in need of renovation, the wide Georgian floorboards are a feature of any period property and are well worth saving.
We viewed this floor in Louth Lincolnshire, our client was uncertain if anything could be done with the floorboards as they looked in such bad condition, and "dare I say" they were considering other options of floor covering as well.
It takes skill, experiences and a lot of hard work to bring a wooden floor back to life, especially one like this, and it would be a shame to lose such an original and beautiful feature to the property and cover it up.
After chatting to our client, explaining we could save the floorboards and repair damaged areas as we see this condition of floorboards every day, so nothing unusual for us.
We sanded the floorboards with our dust free floor sanding equipment, to remove the tar and Bituminous paint from the floorboards and around the edges of the floor, this dose take a lot of work with hand held machines and special abrasives for our large dust free belt sander.
Once the floor was sanded clean we could see the required repairs and the carpentry we needed to do, to replace floor joists and replace damaged floorboards where required.
If we do replace floorboards we always source good reclaimed floorboards from a local reclamation yard for this type of repair.
Then we fine sanded the floorboards making the floor silky smooth as much as possible, once we were happy with the repairs and sanding we prepared to finish the floor with a hardwax oil.
Hardwax oil is one of our preferred floor finishes as we feel it gives a depth to the floorboards, the hardwax oil soaks into the wooden floorboards rejuvenating them as they are often dry, this keeps the floorboards healthy, and another reason we like hardwax oil as a finish, is that its easy to clean and wears with the floor, also an oil dose not chip like other floor finishes can.
Needless to say we always enjoy a challenge and the end result was a rewarding one and our client was over the moon with the end result.
We make the cleaning and maintenance of our hardwax floors easy, as we supply a FREE cleaning and maintenance kit with every completed floor sanding job. (one kit per address)